Last fall, I finished P90X. I was pretty impressed with the results. Fitness and health were both vastly improved. Shortly afterward, I pulled a hamstring, and it screwed up my workouts. I kept active, but no real pushing of myself. Ended up gaining some weight back, and feeling out of shape. I decided to start P90X up once again, even though the hammie is STILL not right.
These guys not only rock, but they know how to make videos… FUN videos.
You've gotta check them out, if you haven't already…
We now resume our not so regularly scheduled blogdeadedness.
But most importantly, have a safe Easter. I mean, it's bad enough that the Easter bunny hates you. The eggs, though. You really gotta watch out for those eggs…
January 20th, 2012 · 1 Comment
November 15th, 2011 · 1 Comment
Different day, same cubicle. New boss, though. Really big on "process", not so big on "getting shit done". In the last few weeks…
I've been told that I need to be in the office every single day (instead of telecommuting half the week or more),
time spent in meetings has gone from around 5% of my time to roughly 20%,
a fair chunk of my remaining time has been spent training  a "senior" developer on Modern Programming 101 bullshit, and
I'm constantly being asked why Project X isn't complete.
Today, though….ahhh, today. Today was the sort of day that gives recruiters wet dreams. Today he comes by to tell me that the walls of our cubicles (yep, cube farm) are being lowered but not to worry! They're putting noise-cancelling tiles in so we won't be distracted by everyone else's conversations. Uh-huh. Oh, and he's probably going to need to swap cubes with me (my larger cubicle with a window view for his center-of-the-cube-farm one) because he needs his privacy and can't have people looking over his shoulder.
Gee, I'm gonna miss this place.
October 22nd, 2011 · 3 Comments
September 10th, 2011 · 5 Comments
Reposted… I haven't forgotten, Rahma.
The attacks of 9/11 will never be forgotten, nor will most of us forget what we were doing, where we were, or the feelings that flooded through us when we first heard the news. Our thoughts, fears, feelings, and ideals were solid, etched in stone. For some of us that hadn't known someone murdered that day, time has a way of wearing those firm and definite edges away, dulling some of those memories. Not good.
I did not know anyone taken that day. But I heard about a special project, 2,996 Tribute*, and signed up. I drew Rahma Salie. I've only "known" her for a couple of weeks, but her death has affected me. Deeply.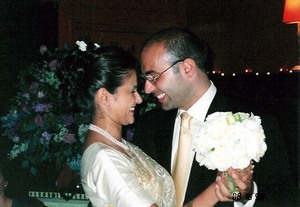 Rahma, of Sri Lankan descent, was born to Yuseff and Haleema Salie in Japan, February, 1973. She went to an international school there, before coming here in 1992, to Wellesley College, where she majored in International Relations, and Japanese studies. She was a consultant in an IT firm, and rose to the position of Chief Operating Officer.
While attending Wellesley, Rahma met Michael Theodoridis, who was attending Boston University. They fell in love, and Michael, a Greek Orthodox Christian, converted to Islam before marrying his bride in 1998. "They were very much in love. They wouldn't do anything without each other," her father said. "There was never anything but a smile on their faces." One article I read called them inseparable.
When I first saw the picture of Rahma, I couldn't help but grin. You can see the love she's got for her husband, but you could also look at her, and just know that she was someone that you wanted to know. Needed to know. One of her Wellesley schoolmates said in a forum, "I bet you could also hear the sound of her laugh while looking at her picture." I could.
She was a very outgoing person, leaving a positive impression on all that she met. Vibrant, successful, hardworking, and driven. Sweet, radiant, loyal, and loving. All words that were used to describe her. I really would have liked to meet her.
On September 11, 2001, Rahma and Michael boarded American Airlines Flight 11, heading to Los Angeles for a friend's wedding. They were not alone. Rahma was seven months pregnant with their first child.
Many of the sites providing lists provide vague info, such as: Rahma Salie was from Boston. Or, Rahma Salie, expectant mother, and consultant. It bugs me. She deserved much more.
Rahma, you will not be forgotten by me. I wish I had known you, sister.
*The original link no longer works. Try Project 2,996 instead.
The new Mastodon album comes out September 27th. Can't tell you how much I'm looking forward to its arrival!
Their style is always changing, but they can always be counted on for smash face rock. Their new single caught my attention immediately, but after a couple of listens, it's really got me hooked.
Hope they head out to this coast, soon…
I've been watching these guys for a while now… Action Figure Therapy. Great stuff… many laughs.
Here, Angry Ranger gives his review of Captain America. Sweary bits and such.
This is what a kids' show should be like. Mastodon's "Deathbound".
I wonder if they considered..alternative disposal methods.
p.s. – Unfortunately, the video is noticeably out of sync but that's the only clip I could find of that particular gem of a speech from Brick Top.
As you enjoy your kiddies' loot from the Easter Bunny, remember that, for the rest of the year, he actually HATES you.
February 5th, 2011 · 6 Comments
Yesterday I made homemade chicken and vegetable soup.
Today  I woke to a runny nose and sneezing fits.
[censored]
February 4th, 2011 · 3 Comments
February 1st, 2011 · 3 Comments
That day is not yet here.
So the first actual* day back in the office after holiday vacation, I'm sitting in a meeting with a couple of coworkers and we're joking around about how it's been so long since we were in the office that we forgot people's names. After watching one guy wrack his brains trying to remember something in an app that we use everyday..
Manager: Wait, you couldn't remember that?

Coworker: Yeah…I know.

Me: Maybe we should have a quiz in next week's meeting. With tough questions about people's names and stuff.

Manager: Sure! Questions like "What do you call your boss?"

Me: You might want to phrase that question a little differently.
Everybody laughed but…dammit.  This stuff is gonna come back to haunt me, I just know it.
–  –  –  –  –  –  –  –  –  –  –  –  –  –  –  –  –  –  –  –  –  –  –  –
* – I'll have to do a separate post about this.
December 31st, 2010 · 5 Comments
'Bout to spend the evening hanging out Jack and everyone's favorite bartender, Lloyd.
Happy New Year to you all… Psychostick style: (sweary bits and stuff)
December 24th, 2010 · 6 Comments
Holy crap…. this just "slays" me! Not your Little Drummer Boy… so beware.
December 24th, 2010 · 5 Comments
For the first time in too many years, I actually did send out some Christmas cards. Not as many as I'd like, though… turned out to be a larger project than I had anticipated.
A few months ago, I finally stooped to buying some readers. Yeah, farkin' READING GLASSES. The corker? When I was trying to read the price on the pair I bought, I had to put on another pair to see what the gott damned tag said. This has seriously pissed me off. One month, I can see… the next, I'm trying to decipher ink smudges.
As I was filling out the cards, I was quietly going nuts. Clear, blurry, clear, blurry, blurrily clear, clearly blurry. By the time I made it through a couple of boxes, my head was pounding. And not so much from the eye strain… it was more from the clenched teeth. Stupid dumbhead eyes!
Fat Dude… if you head through Gangland this evening, would you please bring me some new peepers? Thanks.
And Merry Christmas.