This classic tune is stuck in my head today…
March 17th, 2013 · 1 Comment
An old favorite…
Happy St. Patrick's Day!
Soooooooooo…. I'm pretty impressed with the results of my "Post at least once a month" resolution. Incredible discipline, no?
December 24th, 2012 · 4 Comments
A very Merry Freakin' Christmas to you and yours.
December 14th, 2012 · 1 Comment
Reeling from today's news. I have no words.
Happy Birthday to some of the best peeps with whom I've had the privilege to work, or blog, and/or drink!!! I'll raise a toast to you all… and then probably another few. You know… an alcohol double tap.
Semper Fi, brothers and sisters!
September 21st, 2012 · 6 Comments
Just saw the video for Bobaflex's cover of "The Sound of Silence." I'm a little torn on what to think.
The tune, which I've heard many times and really dig, is just flat out awesome. But the video? I don't know…
I've never been much of a lyrics guy, so I don't know… perhaps there IS something in the lyrics that points towards this. I've read them, but I think I'm missing something.
What's your take?
September 19th, 2012 · 3 Comments
September 10th, 2012 · No Comments
A tribute to the heroes and victims of 9/11…
Hat tip to Blackfive
September 10th, 2012 · No Comments
*This is a repost.
I have not forgotten, Rahma.
The attacks of 9/11 will never be forgotten, nor will most of us forget what we were doing, where we were, or the feelings that flooded through us when we first heard the news. Our thoughts, fears, feelings, and ideals were solid, etched in stone. For some of us that hadn't known someone murdered that day, time has a way of wearing those firm and definite edges away, dulling some of those memories. Not good.
I did not know anyone taken that day. But I heard about a special project, 2,996 Tribute*, and signed up. I drew Rahma Salie. I've only "known" her for a couple of weeks, but her death has affected me. Deeply.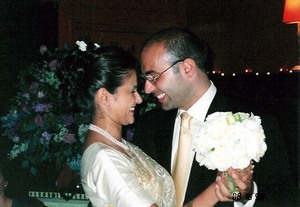 Rahma, of Sri Lankan descent, was born to Yuseff and Haleema Salie in Japan, February, 1973. She went to an international school there, before coming here in 1992, to Wellesley College, where she majored in International Relations, and Japanese studies. She was a consultant in an IT firm, and rose to the position of Chief Operating Officer.
While attending Wellesley, Rahma met Michael Theodoridis, who was attending Boston University. They fell in love, and Michael, a Greek Orthodox Christian, converted to Islam before marrying his bride in 1998. "They were very much in love. They wouldn't do anything without each other," her father said. "There was never anything but a smile on their faces." One article I read called them inseparable.
When I first saw the picture of Rahma, I couldn't help but grin. You can see the love she's got for her husband, but you could also look at her, and just know that she was someone that you wanted to know. Needed to know. One of her Wellesley schoolmates said in a forum, "I bet you could also hear the sound of her laugh while looking at her picture." I could.
She was a very outgoing person, leaving a positive impression on all that she met. Vibrant, successful, hardworking, and driven. Sweet, radiant, loyal, and loving. All words that were used to describe her. I really would have liked to meet her.
On September 11, 2001, Rahma and Michael boarded American Airlines Flight 11, heading to Los Angeles for a friend's wedding. They were not alone. Rahma was seven months pregnant with their first child.
Many of the sites providing lists provide vague info, such as: Rahma Salie was from Boston. Or, Rahma Salie, expectant mother, and consultant. It bugs me. She deserved much more.
Rahma, you will not be forgotten by me. I wish I had known you, sister.
*The original link no longer works. Try Project 2,996 instead.
via The Daily Mail, here's the news on the latest menace…
A mob of Leprechauns are carrying out vicious attacks in and around the city of Seattle, according to a man who claims to be one of their latest victims.

The pint-sized brutes were allegedly hopping mad after catching the man dancing with the wrong girl at a Belltown bar.

Officers arrived at the scene of a bar fight to find the man covered in blood and screaming in pain with his head held in his hands.

When officers asked who had attacked him, the man replied: 'It was a bunch of leprechauns.'
We've all been there, right? No? Really? It's just me?! Shit. Never mind.
Last fall, I finished P90X. I was pretty impressed with the results. Fitness and health were both vastly improved. Shortly afterward, I pulled a hamstring, and it screwed up my workouts. I kept active, but no real pushing of myself. Ended up gaining some weight back, and feeling out of shape. I decided to start P90X up once again, even though the hammie is STILL not right.
These guys not only rock, but they know how to make videos… FUN videos.
You've gotta check them out, if you haven't already…
We now resume our not so regularly scheduled blogdeadedness.
But most importantly, have a safe Easter. I mean, it's bad enough that the Easter bunny hates you. The eggs, though. You really gotta watch out for those eggs…
January 20th, 2012 · 1 Comment
November 15th, 2011 · 1 Comment
Different day, same cubicle. New boss, though. Really big on "process", not so big on "getting shit done". In the last few weeks…
I've been told that I need to be in the office every single day (instead of telecommuting half the week or more),
time spent in meetings has gone from around 5% of my time to roughly 20%,
a fair chunk of my remaining time has been spent training  a "senior" developer on Modern Programming 101 bullshit, and
I'm constantly being asked why Project X isn't complete.
Today, though….ahhh, today. Today was the sort of day that gives recruiters wet dreams. Today he comes by to tell me that the walls of our cubicles (yep, cube farm) are being lowered but not to worry! They're putting noise-cancelling tiles in so we won't be distracted by everyone else's conversations. Uh-huh. Oh, and he's probably going to need to swap cubes with me (my larger cubicle with a window view for his center-of-the-cube-farm one) because he needs his privacy and can't have people looking over his shoulder.
Gee, I'm gonna miss this place.
October 22nd, 2011 · 3 Comments